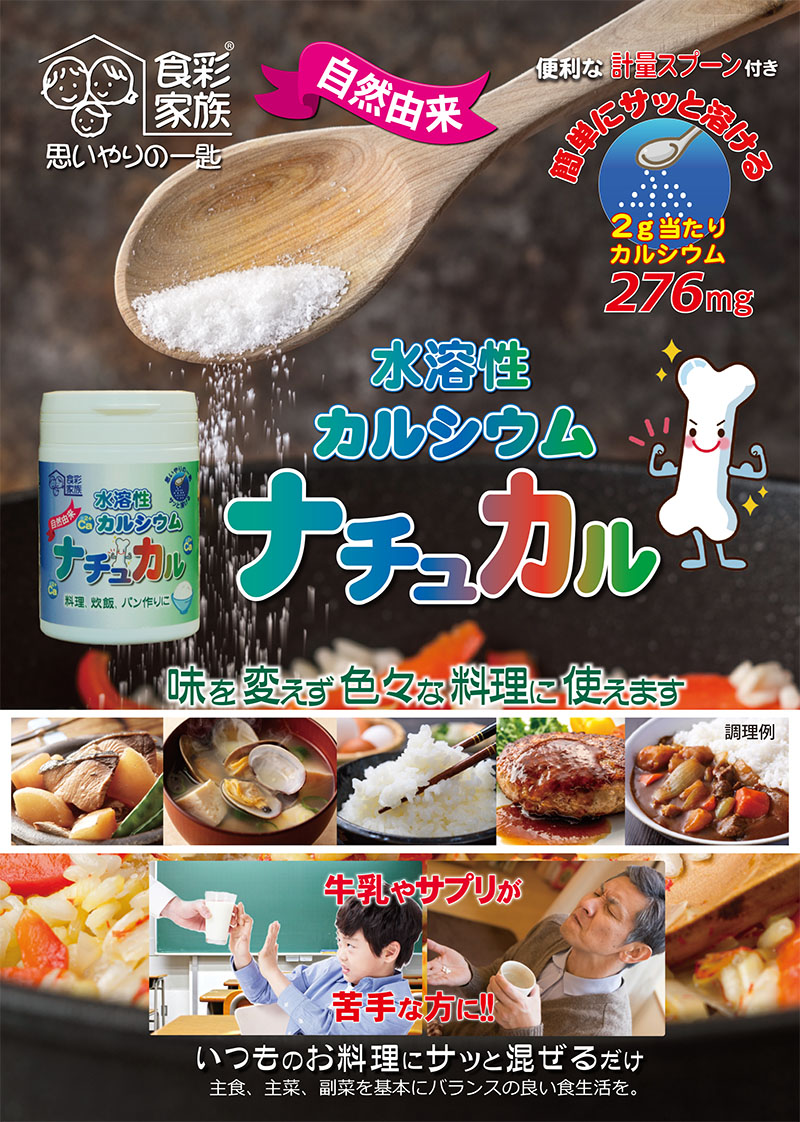 Nowadays, people are chronically deficient in calcium. Because calcium needs to be replenished every day, it is important to be able to take it in easily. Promote a healthy 60-day score of calcium.
The Shokusai Family Natural is a very convenient food that can be used by the whole family. It can be added directly to rice, miso soup, stir-fry or various beverages without changing the taste of the original food and can be consumed directly. You can get 276mg of calcium in 2g at a time.
Capacity
Suggested Retail Price
JAN code
200g
Open Price
4562471750052
Recommended Intake
2g/person, use standard: use within 1.0% of the food amount.
Way of Serving
For each person per day, take one scoop (2g) of the included spoon and mix with 200g or more of food, or miso soup, juice, rice, etc.
● Please note that direct consumption of the powder will have a slightly bitter taste of calcium, which affects the effect of consumption.
● When scooping with a spoon, be careful to use a dry spoon.

Drinks and foods that can retain their original flavor, hot or cold.
(Drinks) Cocoa, fruit juice, smoothies.
(Food) Miso soup, curry, rice (during cooking), etc. (Dessert) Yogurt.
(Bread) Bread, cookies.
Main Components
2g contain: Calcium 276mg.
Nutrition Facts
100g contains: Energy 123 calories, Protein 0g, Fat 0g, Carbohydrate 41.1g, Salt 0.04g.
Expiration Date
3 years
Contents
120g
Form
Powder
Storage Condition
● Avoid high temperature, humidity and direct sunlight, store in a cool place.
● Please be careful not to choke when consuming.
● After opening, tightly cover and store in a cool place, and consume as soon as possible.
Recommended for
・Those who do not like to drink milk.
・People who do not like health products.
・Children in growth.
・People who are worried about calcium deficiency.